Buildings
We offer the finest fire protection system that best suits various types of buildings.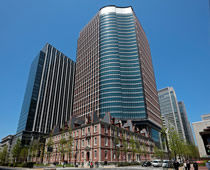 As a major fire protection system manufacturer/engineering company in Japan, NDC has accomplished the most in the building fire protection. We have the social mission to protect precious human life and valuable assets.
Our building fire protection has made many accomplishments in office buildings, high-rise apartment buildings, museums and tunnels, and broadly deals with the latest fire protection systems. We will offer and structure optimal fire protection systems, and satisfy the customers' needs for "safety and security" with our deep knowledge and experience.
List of equipment
Sprinkler system
Drencher equipment
Inert gas (IG-541) fire extinguishing system
Powder fire extinguishers
Portable fire extinguishers
Sprinkler system for apartment buildings
Consolidated sprinkler system
Carbon dioxide fire extinguishers
Automatic fire alarm system
Water ejector sprinkler system
Foam fire extinguishers
Indoor/outdoor hydrants
Halogen 1301 fire extinguishers
Tunnel disaster prevention system
Consolidated water pipe