Fire Engines
We satisfy fire fighters' special needs with the latest technologies.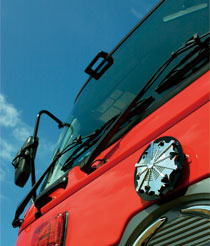 Fire engines rush to the site when emergency is reported, and fighting with fire to preserve "safety and security" of the society. One of the jobs of NDC is to equip fire engines. We adopt special specifications that suit the locations and types of fires with the latest technology.
Fire engines come in many types: Pumpers that draw water from hydrants or rivers, Pumper with a water tank that can discharge water when there is no water source, chemical fire engines that fight against oil fires, and so on. NDC mobilizes the latest fire fighting technologies to satisfy the needs for highly specialized fire engines. We manufacture general pumpers, pumper with a water tank, chemical fire engines, support vehicles, water tankers, and other various fire engines. We contribute to enhance operability and safety as well as conserving energy by sophisticating the functions of the major equipment, and promoting electronic, automatic controls for automatic water pumping monitor equipment and automatic foam mixing equipment.
Fire engines require high performance and function for "safety and security". NDC promotes their evolution.
Our Typical Fire Engines
■ Fire pumper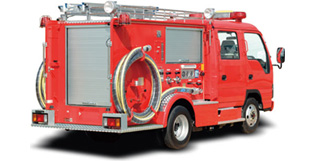 ■ Fire pumper with water tank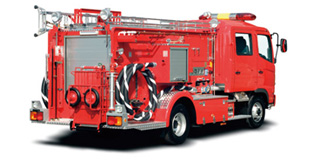 ■ Chemical fire engine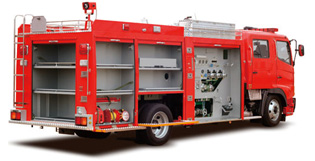 ■ Water tanker with mobile fire pump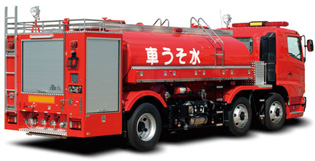 ■ Dry-chemical fire engine