Fire Extinguishers

NDC offers various types of fire extinguishers and all other safety products.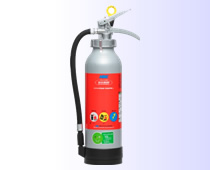 NDC is a pioneer that developed the first dry-chemical extinguishers in Japan. Ever since, we have planned, developed and offered various fire extinguishers and safety products to our customers, answering a broad range of needs with our own technologies founded through continuous research and development.
Fire extinguishers by NDC come in various models: a general model placed at offices or plants, large-size models for power plants, petroleum facilities and other locations that handle hazardous substances, models to be placed in automobiles, and models for homes. We have developed the "NDC aluminum series", the world's first dry-chemical fire extinguisher using an aluminum container that is easier to recycle. It is considerate to the earth environment, and at the same time 20% lighter than conventional types, making it easier for women and the elderly to handle. In addition to fire extinguishers, we offer a broad variety of other products, such as pre-engineered fire protection product, fire extinguisher for homes, and metal fire extinguisher.
We also focus on safety products and evacuation goods that are useful in case of disaster. We offer new "safety and security" by satisfying all needs in the society, through planning and developing highly reliable products, considerate to the environment.
Introduction of Various Types of Fire Extinguishers
■ NDC aluminum series